In Deep Democracy zien we inclusie als een jamsessie waarbij je elkaar met lef en verbinding ontmoet. Iedereen durft zijn of haar eigen geluid te laten horen, om samen in voortdurende afstemming tot een beter geheel te komen. Apart en toch samen. Met liefdevolle begrenzing en krachtige verbinding. Snoeihard en soft tegelijkertijd. Jitske Kramer schreef het
boek Deep Democracy
, waarin de dynamiek van verschillen en de manieren om hier meer inclusief mee om te gaan uitgebreid worden beschreven. In onze lezingen en in de
Training Deep Democracy
staat deze zienswijze en methode centraal.
Jam cultures geeft een positieve taal om zware thema's als macht en uitsluiting te bespreken. Wij gaan er vanuit dat diversiteit een gegeven is. Een  positief gegeven. Mensen zijn nu eenmaal erg verschillend van elkaar, en daarmee kunnen we elkaar aanvullen of het leven zuur maken. Wij kiezen voor het eerste. Bovendien gaan we er vanuit dat we weliswaar heel verschillen zijn, maar tegelijkertijd erg op elkaar lijken. Omdat we mens zijn, met dezelfde dilemma's, vragen en behoeften, die we alleen heel anders vormgeven.
Diversiteit is een gegeven. Inclusie gaat over hoe we met diversiteit omgaan. Over wie waaraan mag meedoen. Wie waarover mag meepraten. Wie wat mag beslissen. En wie vooral niet. Daarmee gaat inclusie over omgaan met macht, privileges, verschillen, overeenkomsten en tegenstellingen. Zie ook artikel. Hier vind je een uitgebreidere uitleg over wat wij onder diversiteit verstaan.
Niets is moeilijker dan samen ervoor zorgen dat iedereen mee kan doen, ongeacht afkomst, huidskleur, religie, sociale klasse, opleidingsniveau, seksuele geaardheid, gender. Inclusie betekent omgaan met tegenstellingen, met vreemden, met emoties en conflicten, met schaarste en privileges, met in- en uitsluiting, met macht en onmacht. In inclusieve organisaties zijn alle mensen welkom, maar niet elk gedrag. We luisteren we naar iedere mening, we mogen het oneens zijn met elkaar en we zijn bereid onze eigen waarheid uit te dagen. Verwondering en twijfel zijn welkom en je mening bijstellen na nieuwe inzichten is normaal. Actief zoeken naar afwijkende meningen is een gewoonte. Tegelijkertijd is er het besef dat diversiteit niet alleen maar leuk en verrijkend is. Het is ook lastig en soms bloedstollend irritant. Wat mag wat bepalen? Wie waar welke grens mag leggen is de machtsvraag die bij diversiteit en inclusie hoort. Op de grens van onze wensen, voorkeuren, gewoonten en groepen bevinden zich zowel de uitdagingen als de kansen. Op de grens gebeurt het. Hier vind je een uitgebreidere uitleg over wat wij onder
inclusie
verstaan.
WAAROM DIVERSITEIT EN INCLUSIE?
Wij zijn inmiddels voorbij aan de wetenschappelijke discussie of diversiteit nuttig of noodzakelijk is. Om vier redenen is dat al wel helder: het is de tijdgeest ('je doet beter zaken met China als er een Chinees bij je werkt'), het is sociaal en eerlijke ('Ahmed moet dezelfde kans krijgen als Jan; vrouwen moeten evenveel verdienen als mannen'), de vijver wordt groter door ('we hebben een arbeidsmarktprobleem'), de kwaliteit van werk neemt door de combinatie meer diversiteit en inclusie toe.
Wij blijven het belangrijk vinden om het WAAROM en WAARTOE verhaal te blijven vertellen. En wij focussen graag op HOE we meer inclusieve culturen kunnen creëren met elkaar. En WAT we dan moeten doen. Dit betekent focus op inclusieve vaardigheden voor teamleden, leiders, bestuurders… voor mensen.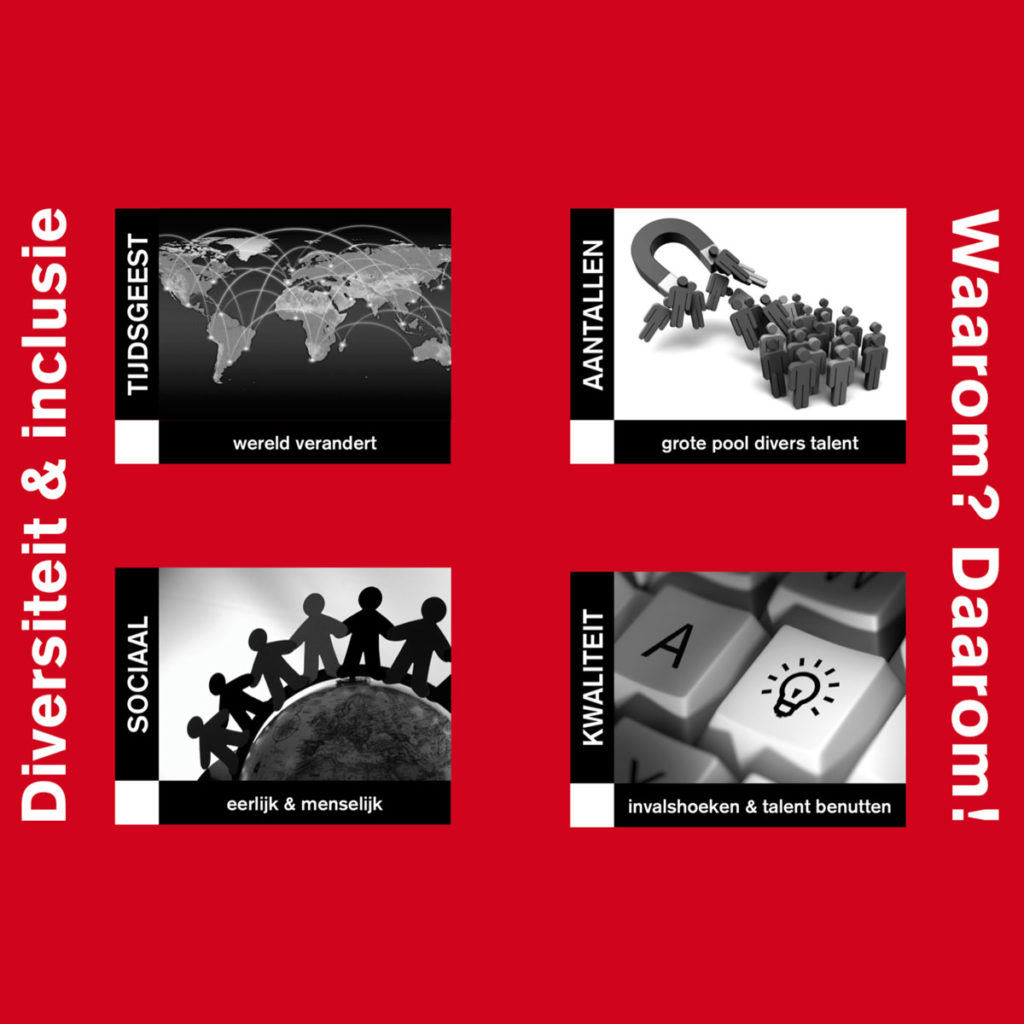 Deep Democracy geeft antwoorden op de vragen waarom we diversiteit vaak zo lastig vinden en hoe we inclusiever kunnen worden. Met inhoudelijk inzichten en theoretische kaders, met persoonlijke reflectie en concrete vaardigheden. Verschillen beter benutten, betekent goede gesprekken kunnen voeren, ook over lastige of emotionele onderwerpen. Het vraagt manieren van creatief probleem oplossen om tot meer synergie en co-creatie te komen. Het vraagt lef om van gebaande paden af te gaan. Het vraagt leiderschap in het stellen van grenzen en in het verleggen van grenzen. In het verbinden van mensen en in het ruimte maken voor de autonomie van mensen. Inclusie betekent goed leren omgaan met tegenstellingen, dilemma's, twijfels, conflicten, harde oordelen en principiële standpunten. Het vraagt inzicht in de tribale aspecten van macht en vertrouwen en loyaliteit en groepsvorming. Niet makkelijk, wel belangrijk.